A long term towel hire service covering London and Essex. Towels for hire are available from Bath Towels to face cloths and everything that's in between.
Whatever your towel requirements, we aim to deliver!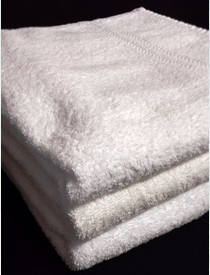 Long Term Towel Hire Prices
We hire and supply towels, laundering and cleaning them to the highest of standards, a superior quality "1st Class" 500gsm-600gsm towel. Moreover;  they are competitively priced, hired in White or Black as standard, however colours are available on request.
All towels are delivered in laundry bags, labelled with your own company name on them (at no extra cost). As a result towels will be delivered to you only with no confusion, hassle free.  Furthermore, we do not use a "pool stock" system of towels, in contrast we supply towels on a designated stock basis, meaning they are for your use only.
For that reason we can maintain a high level quality towel for you to pass on to your customers.
Areas covered
Currently covering all of London, Essex and most of the M25, but not limited too, if you are outside of these zones do not hesitate to contact for assistance.
Long term towel hire – how it works

  
Send an email or contact us on 01268 691222, advising your towel requirements and we will get back to you with a quotation.
On receipt of your confirmation to begin services. We will agree the number of towels being delivered on a weekly, twice weekly or fortnightly basis.
Depending on your delivery and collection setup, each customer is allocated the correct amount stock allowance; to facilitate a rotational delivery and collection service, delivering the clean, collecting the dirty.
For example; a customer having a once per week delivery and collection service would be supplied with 2.2 weeks of their weekly towel usage. This will be delivered over the first 2 deliveries, receiving half of the stock on the first delivery and the second half on the next delivery, giving the full stock allowance. 
for instance; 200 towels hired on a weekly basis.
Firstly, x 200 towels by 2.2 this gives the total stock allowance.
200 towels x 2.2 =440 towels
On the 1st delivery you will receive 220 towels. On the 2nd delivery you will receive 220 towels totalling 440 towels.
At the same time of the 2nd delivery we will collect the soiled towels from the week before.  These will be processed and returned the following week.  This routine will continue weekly, what we collect is  what we return the following week.
You will only be charged for the 200 towel per week unless any extras are used.
Frequently asked questions
Q. Why the .2?
A. This is to allow for a small number of overage, in busier periods
Q. What towels sizes do you hire?
A.  We supply; Bath Sheets, Bath Towels, Hand Towels, Bath Mats, Face Cloths, Gym/ Sweat Towels. Bath Robes on request.
Q. What are the delivery/ Collection arrangements?
A. Delivery/collection service is individual to each customer, being weekly, twice weekly or fortnightly. However in all cases, it will be the same day or days every week.
Q. Do you enforce an annual contracts?
A. The contract is for 3 months, to cancel after this time a 1 months notice period needs to be given to terminate services. We can offer this service because the service level is superior too most, above all having many satisfied customers.
As a result of using our towel hire service, there is no expense buying the towels, they will be cleaned, folded and ready to use, only hiring the correct amount of towels to reflect your usage, which can be increased or reduced by email or phone call.
Not looking for Long term towel hire? Just need towels for one off event?